The 2001 Saleen S7
(MSRP) is $375,000US.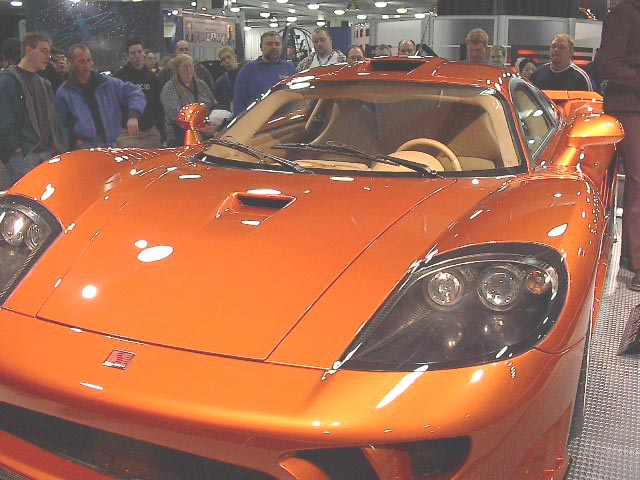 S7 was Unveiled - August 19, 2000
Top speed over 200 miles per hour. Zero-to-60 time is under 4 seconds.
Mid-engine -based on a Ford-cast all aluminum block re-engineered by Saleen
Cam-in-block 7-litre motor generates 550 horsepower at 6400 rpm and 520 foot-pounds of torque at 4000 rpm
Redline is 7000 rpm.
Magnesium throttle body and intake manifolds, carbon fiber induction system, stainless steel values, titanium retainers, beryllium exhaust valve seats, ceramic coated stainless steel exhaust system, and race-derived all-aluminum CNC machined Saleen designed heads.
Longitudinally mounted six-speed transaxle, with unique Saleen bell housing
The clutch is a metallic 5.5 inch, four plate unit with hydraulic actuation.
Frame chassis which honeycomb composite reinforcing
Suspension is fully independent unequal length "A" arms
Air conditioning, power windows, adjustable pedals, and a 6-disc CD player are standard
Live video rear view "mirror" (video camera mounted in the rear)
Front and rear trunks and comes with fitted luggage

Four-year production - worldwide volume is projected to be 300-400 cars.
---
All pictures property of Fast Wheels Net Magazine (C)2001